Roll over image to zoom in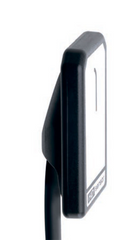 ---
Always ready, fast, portable. Zen-X is an HD digital sensor used to acquire unmatched high definition intraoral images and make your workflow both simple and efficient.
MyRay, just right for you.
High definition, immediacy, reliability and ergonomics. Zen-X o ers all the advantages of real-time digital technology to obtain and share high quality images with ease.
Capture and consult the best high definition intraoral images immediately. Zen-X saves time and make communication with patients more e ective thanks to automatic acquisition and USB direct plug-and-play connection. Available in two sizes, it features ergonomic design with smoothed edges, rounded corners and a flexible lead, maximising both active area and positioning comfort. Made of extremely hard-wearing materials of the highest quality, it is compatible with all intraoral X-ray generators. The precision of modern technology.
Easy, fast, portable, real-time
Maximum active area with optimal ergonomics
Resistant to impact, dust and liquids
Plug-and-play with iCapture software
All-in-one iRYS software – Free Viewer and iPAD app
Optimal workflow
Ergonomic positioners allow optimal placement of the sensor, which is always ready for exposure. Following acquisition, images are loaded directly onto the PC. They can then be saved, consulted and shared via iCapture software (TWAIN), all-in-one iRYS software (DICOM) or with a free image viewer or iPAD app before being printed or sent via e-mail.
LATEST-GENERATION HD MULTI-LAYER SENSOR
The Cesium Iodide (Csl) scintillator intercepts the X-ray beam and converts it into visible light while preserving image quality.
The layer of fibre optics (Fibre Optics Plate) collimates the radiation onto the sensor and protects it against direct X-ray penetration.
The high definition acquisition device with 20 μm cells (HD CMOS) converts the light into a digital image which is then processed by the on-board electronics, ready to be transferred to a USB port.
Technical characteristics
External dimensions (mm) 38.9 x 24.9
Thickness (mm) 5.3
Pixel matrixl 1500 x 1000
Pixel size (m) 20
Maximum resolution (lp/mm) 25
Grey levels depth 14-bit acquisition – 16384 maximum grey levels
Scintillator technology CsI (Cesium Iodide) with micro-columnar structure
Direct exposure protection FOP (Fibre Optics Plate)
Protection rating IP 67 (Guaranteed against liquid or dust infiltration)
Compatibility with X-ray generators Any AC or DC technology X-ray generator with kV values in the 60 – 70 kV range and precision control of exposure times
Connectivity Direct USB to PC
Acquisition software (for PC) iCapture with TWAIN interface
Image management software (for PC) iRYS (for PC) with DICOM 3.0 interface with free viewer and APP for iPAD
Minimum system requisites
Supported operating systems Microsoft® Windows® 7 (SP1) – 8 – 8.1 Professional (64 bit recommended); Microsoft® Windows® 10 Professional 64 bit
Display settings 1280 x 1024; 1344 x 768 or greater, 16 million colours
Port USB 2.0 or subsequent
Power supply 5 VDC, 500 mA (via USB)